History of the region based on the materials of archeological excavations" is being opened on the lowest floor of the Church of the Presentation of the Virgin in the Temple with the refectory. It is the first full exhibition representing archaeology of the Belozersk district in the Vologda Region. Materials of the monastery archeology are displayed for the first time in our region. More than 4000 archeological objects dating back to different chronological periods are represented there: from the Mesolithic period (9000 B.C.) till the late Middle Ages.
At the end of the 20th – early 21st century considerable restoration work has been carried out in the Kirillo-Belozersky museum-reserve. Museumfication of the monuments is being realized at the same time. One of the most interesting architectural buildings of the Kirillo-Belozersky monastery is the Monks' cells. In the process of its restoration architects and restorers managed to discover complicated structure of this dwelling house of the 17th-19th centuries.
Exhibitions dedicated to the folk applied art and handicrafts of the Belozersk district are placed in the spacious vaulted chambers of the monastery cook-house of the 16th century. An important place is occupied by wood-carving, ceramics, peasant embroidery, weaving, lace-making and a folk female costume of the 19th-early 20th centuries.
26.08.2015
"Charm of Russian North" of Alexei Nitetsky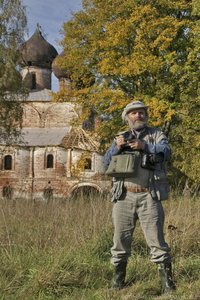 The display titled "Alexei Nitetsky. Charm of Russian North" was opened in the Kirillo-Belozersky Museum-Reserve. It presents pictures of the famous photo artist taken in the genre of architectural landscape in 2007. Visitors of the museum can see the Kirillo-Belozersky and the Ferapontov Monasteries and the Goritsy Convent of the Resurrection. Ancient cities and Orthodox cloisters are the favourite subject of Alexei Nitetsky.
He was interested in painting since childhood and took lessons of teachers from Moscow State Academic Art Institute named after V.I. Surikov. In the 1990s, he went in for art photography professionally cooperating with periodicals, museums and research institutions.
Alexei Nitetsky first came to Kirillov in summer 1986 as a tourist. Several years later, his professional activity brought him to Vologda and then to Kirillov where he often worked for a long time. The photo artist has been collaborating with the Kirillo-Belozersky Museum-Reserve for over 20 years. His works can be seen in many editions – albums, guide books, and booklets about Kirillov and Ferapontovo. Besides, Alexei Nitetsky's photographs are often used as illustrations to the materials placed by the Kirillo-Belozersky Museum-Reserve in the Internet.
More about the display
It will be open till October 30, 2015.
Venue: Parvis of the Refectory with the Church of Presentation of the Virgin in the Temple.
Opening hours: from 9:00 to 18:00 every day.
Admission is free.