History of the region based on the materials of archeological excavations" is being opened on the lowest floor of the Church of the Presentation of the Virgin in the Temple with the refectory. It is the first full exhibition representing archaeology of the Belozersk district in the Vologda Region. Materials of the monastery archeology are displayed for the first time in our region. More than 4000 archeological objects dating back to different chronological periods are represented there: from the Mesolithic period (9000 B.C.) till the late Middle Ages.
At the end of the 20th – early 21st century considerable restoration work has been carried out in the Kirillo-Belozersky museum-reserve. Museumfication of the monuments is being realized at the same time. One of the most interesting architectural buildings of the Kirillo-Belozersky monastery is the Monks' cells. In the process of its restoration architects and restorers managed to discover complicated structure of this dwelling house of the 17th-19th centuries.
Exhibitions dedicated to the folk applied art and handicrafts of the Belozersk district are placed in the spacious vaulted chambers of the monastery cook-house of the 16th century. An important place is occupied by wood-carving, ceramics, peasant embroidery, weaving, lace-making and a folk female costume of the 19th-early 20th centuries.
02.09.2015
Students visited museum on September 1
First-year students of the Vologda Regional College of Culture and Tourism (former Vologda Regional Training School of Culture) came to the Kirillo-Belozersky Museum-Reserve on Day of Knowledge. They attended the lecture on manuscripts and printed books from the museum holdings.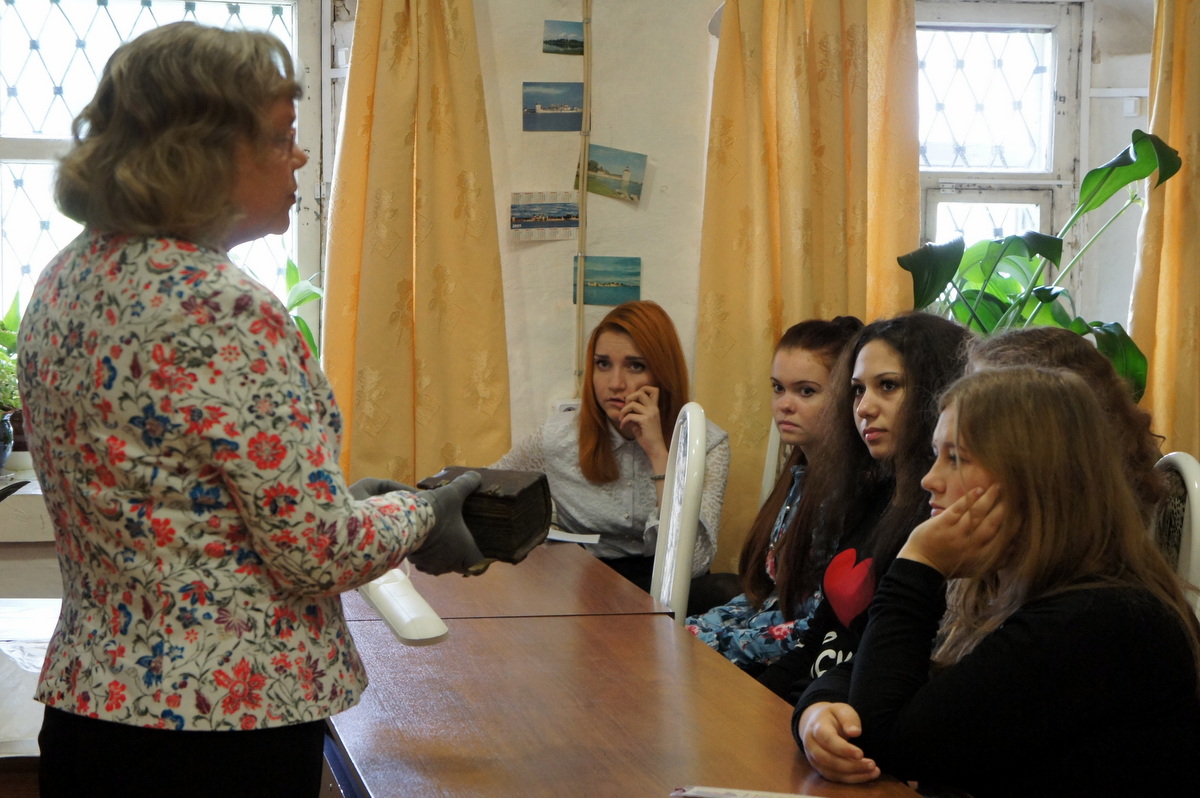 It was given by A.V. Smirnova, head of the Archive and Manuscript Section. She told the students about the history of books starting from the distance times when information had been written on clay plates, till printed editions. A lot of attention was paid to the development of book publishing industry in Russia. Albina Smirnova demonstrated the books of the 15th-19th centuries from the museum holdings, including the book written on parchment from the private library of the founder of the Kirillo-Belozersky Monastery. During the lesson, the students learnt about papermaking and examined the watermarks on the paper of the 17th-19th centuries.